What sort of valuation do you need?
At Tennants our specialists value hundreds of items every week, the vast majority of which are valuations for sale by auction. The estimate or guide price given represents the range that we would reasonably expect that item, or group of items, to achieve as a hammer price before charges are deducted. The figures are based on similar examples sold recently at auction worldwide, taking into consideration global variations, current metal and gemstone trading prices and currency exchange rates. Tennants do not charge for auction estimates if the items are potentially to be offered for sale.
As part of the valuation, a specialist will suggest a reserve price, usually just below the bottom end of the estimate, which is the lowest price we would be allowed to sell the item for. However, often items will sell for more than their estimate, as competitive bidding rather than the estimate dictates the final hammer price. Sometimes things will make a little less, and occasionally we have an exciting moment where something greatly exceeds the estimate.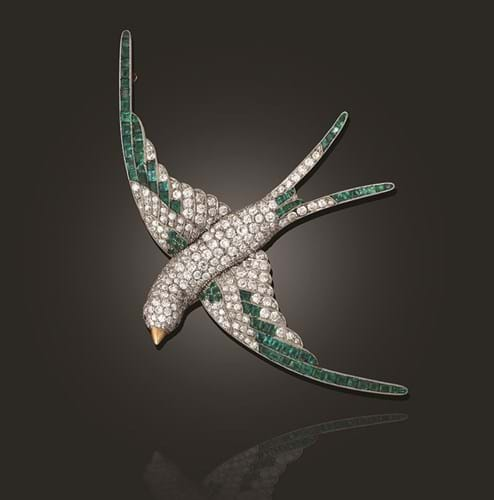 An Emerald and Diamond Brooch, early 20th century – Sold for £40,000 plus buyer's premium
Tennants also offer a professional valuation service for probate, insurance, or family division purposes. As well as providing a valuation for your jewellery, we also prepare a formal itemised written document, which you can use appropriately. There is a fee for all professional valuations, which is calculated on an hourly basis and is highly competitive.
A professional jewellery valuation will contain the following key points: description, measurements, weights and usually a photograph of the piece. In the sad circumstance that jewellery is stolen, often it will not be recovered, and your items will be replaced according to insurance cover. However, sometimes, and more often than people perhaps realise, jewellery is recovered from theft. In both cases, up to date and comprehensive records are vital. It is recommended that insurance valuations are revisited every year to take into account fluctuations in the current market, to prevent being either over or under insured.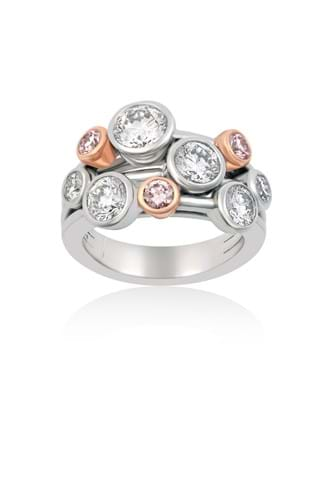 A Platinum Diamond 'Raindance 20th Anniversary' Ring, by Boodles – Sold for £19,000 plus buyer's premium
Why do auction and insurance values differ?
We sometimes see people who are perplexed by the auction estimate they are given on a piece of jewellery, as they may have based their expectations on an existing insurance valuation. To understand why an auction estimate can be markedly lower than an insurance figure it may help to use as an example a hypothetical case of an engagement ring, now surplus to requirements.
A round brilliant cut diamond ring was purchased from a high street jeweller, with the diamond weighing 0.75 carat, with colour G, and clarity SI1. The jeweller had displayed it with a price tag of £5,000, but it was purchased for a slightly discounted price of £4,500. The jeweller then provided an insurance valuation of £5,750, as on the day of purchase the cost of an equivalent ring to the jeweller was higher than when he had purchased the current ring.
The diamond ring has been worn every day for 3 years. The ring is in good condition, but it is clearly no longer new. The jeweller, quite rightly, will not refund the item at the price paid, and does not wish to offend by offering to buy it back at the lower price it had cost him originally.
The owner takes it to an auctioneers with a view to selling at auction. They are told that it is likely to achieve £700-1,000 plus fees in the saleroom, according to current open market prices. So, the owner wonders how it has "lost" so much of its value. In reality, after three years an equivalent ring is now selling for £6,000 in the same high street shop. On top of the increased cost of the ring to the jeweller, they have the usual overheads to cover, as well as needing to make a little profit on each sale.
At auction there is a fairly steady supply of similar solitaire diamond rings that have been worn for a shorter period than initially intended. Where there is plentiful supply on the open market, sale prices are lower. In addition, potential bidders are sometimes in the jewellery trade themselves, and will be looking to make a small profit when they sell the ring on. A ring may go through more than one trader, each making a profit before it ends up in a second-hand jewellery shop window. This shop, over the road from the original jewellery shop, can't charge the new selling price, so they offer it for £3,500.
Alternatively, the ring could go to a private individual buying to wear themselves. They come knowing that they will have the buyer's premium to pay on top of the hammer price, and as they have chosen not to use a retailer, they expect to pay less than retail price in a shop. Their maximum bid could be £1,500, and on one day the ring might make that in the saleroom if there is one or more competing buyers bidding against them, but on another day, there might be less interest and so the estimate reflects that.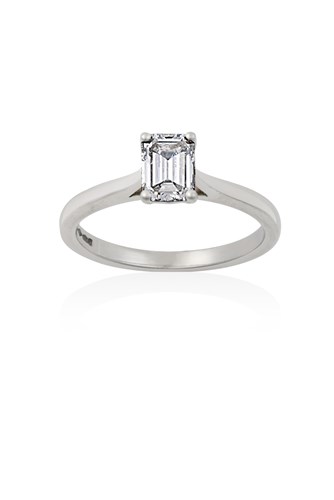 A Platinum Diamond Solitaire Ring, Estimate: £500-700 plus buyer's premium. To be sold in the Jewellery, Watches & Silver Sale on 13th May.
Hopefully this will have provided some further context as to how the valuation process works and has answered some of the most frequently asked questions.  Tennants specialists are always on hand to discuss any aspect of valuations in more detail.