The Costume, Accessories & Textiles Sale on 20th August will include a colourful range of textiles from three aristocratic households.
A PRIVATE COLLECTION OF TEXTILES WITH PROVENANCE FROM THE 1ST EARL MOUNTBATTEN OF BURMA
In 1917, amidst increasingly anti-German sentiment, various members of the Battenberg family anglicised their name to Mountbatten. They were a Cadet Branch of the Hesse-Darmstadt family, who ruled the Grand Duchy of Hesse, situated in what is now modern Germany with Wiesbaden as the capital.
Despite being born in Austria, Prince Louis of Alexander of Battenberg (1854-1921) became a naturalised British citizen and entered the Royal Navy at the age of 14, rising to become First Sea Lord by 1912; a position which, along with his family name, he would have to relinquish in the face of anti-German sentiment. There is an abundance of examples of his family's international power and influence; his wife's grandmother was Queen Victoria, two of his sisters, one of whom was the Empress of Russia, were murdered by the Bolsheviks, and Louis was once reprimanded during the Russo-Turkish War for crossing the front to visit his brother Prince Alexander who was an officer in the opposing Russian Army.
Louis Mountbatten (1900-1979), 1st Earl Mountbatten of Burma, not only shared his father's name, but also his naval vocation. He joined the Navy towards the end of World War I, and by World War II he was sufficiently respected to be appointed Supreme Allied Commander of South East Asia Command, in which position he helped overcome the Japanese forces. After the war Clement Atlee advised George VI to appoint Mountbatten as Viceroy of India in 1947. The British, at the time, were preparing their withdrawal, and so it fell on Mountbatten to organise a quick and peaceful transition of power. At midnight on 15th August 1947, both India and Pakistan became independent.
Whilst in India with his wife, Edwina Ashley (1901-1960), they collected many of the items included in this sale.
Highlights of the collection include: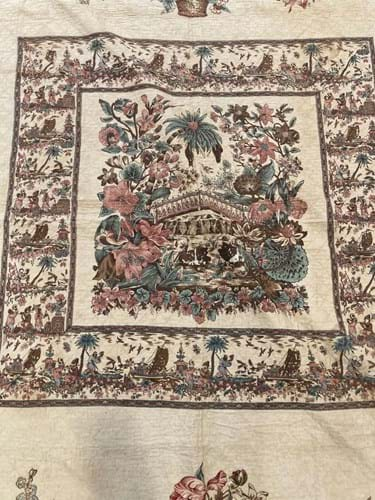 An Early 19th Century Chintz Quilt (detail) (estimate: £400-600)

Two Early 20th Century Indian Souvenir Woven Cloths (estimate: £150-250)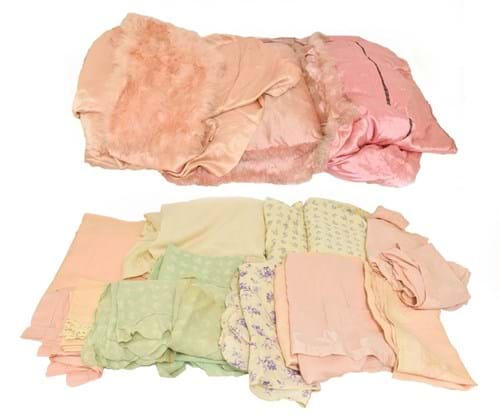 A Collection of Circa 1930s and Later Bed Linen, Some Bering the 'EM' Monogram for Edwina Mountbatten (estimate: £300-500)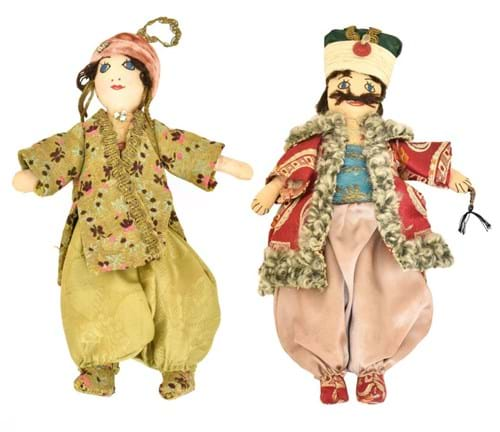 Two Circa 1940s Indian Cloth Dolls of Lord and Lady Mountbatten (estimate: £120-180).
A COLLECTION OF MONOGRAMMED BED LINEN AND ACCESSORIES FOR PRINCESS MARY OF HAREWOOD HOUSE, WEST YORKSHIRE
Princess Mary was born on the Sandringham Estate on the 25th of April 1897, the only daughter of King George V and his wife, Mary of Teck. Throughout her childhood she was hidden from the public eye, until making her first state appearance at her parents' Coronation on 22nd June 1911.
Throughout World War I she visited many hospitals with her mother and engaged with several charitable endeavours. Her innate altruism is best reflected in her becoming the first British royal to visit France following the Armistice, on only the 20th of November 1918.
In 1922 Princess Mary married Viscount Lascelles (later, the 6th Earl of Harewood). It was the first royal wedding to be covered by several fashion magazines, such as Vogue, who described her dress as combining 'youthful simplicity with royal splendour.'
She spent her married life at Goldsborough Hall, and later at Harewood House. She was an active participant in county life and was a patron of the Yorkshire Ladies Council of Education, and of the Yorkshire Symphony Orchestra.
A selection of lots from the collection: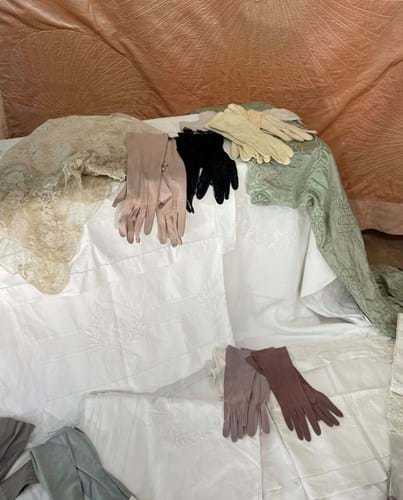 A COLLECTION OF COSTUME, TEXTILES & EPHEMERA FROM CASTLE HOWARD, NORTH YORKSHIRE