Working in the busy picture department at Tennants, we see so many paintings on a daily basis but every once in a while, something comes along that immediately grabs your attention and makes you stop for a moment. This was the case a couple of weeks ago, when a client sent through a number of images and amongst them was this charming life drawing.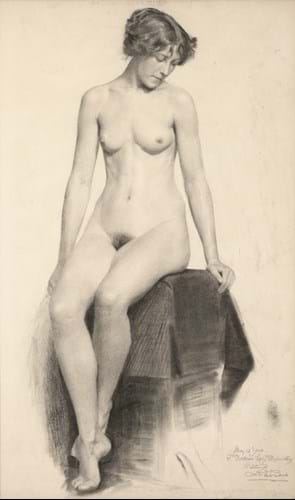 Bought from Abbott & Holder gallery, London in the early 1980s, it was purchased as a work by an unknown Royal Academy student. Drawn in pencil, it was inscribed to the lower right corner "May 12th, 1900/ F Dicksee Esq/ Painting 11 sittings/ H J Bodset" and was apparently still in its original frame. In 2008, armed with these few snippets of information, the vendor decided to take the drawing to the Royal Academy archives to see if he could unearth any further information.
The archivists confirmed that this drawing was an entry into a student competition, the two names signed lower right were in fact the two judges - H J Bodset, curator at the Life School (1883-1920) and Francis Dicksee, a visiting teacher at the time. There is no artist signature as students were banned from doing so in case it influenced the judges' decisions.  Indeed, the only way anyone could know whose hand drew this picture was if they had signed it after competition. Thankfully artistic bravado stepped in, and upon removing the backing from the picture the signature of Henry James Haley was revealed along with the date '1900'.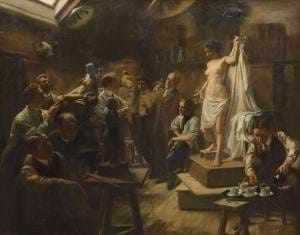 With a name in hand, further research revealed that Haley clearly enjoyed working with the model as she appears in other works, namely his School for the Artist, which is now in a private collection.
Standing Nude by Henry James Haley (1874-1934) will feature in the forthcoming Autumn Fine Sale on 17th November 2018.