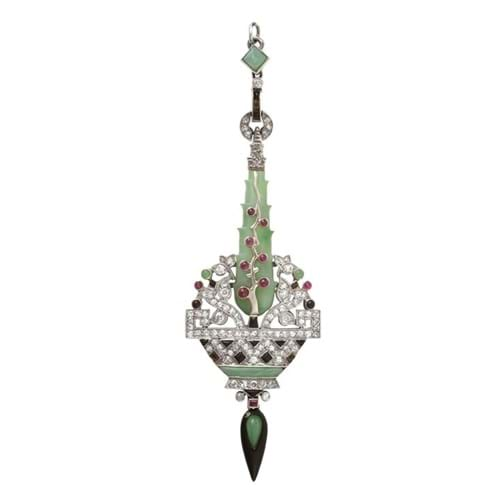 An Art Deco Jade, Diamond, Ruby and Onyx Pendant, Lang, Paris, circa 1925, of geometric giardinetto design – Sold for £6,800 plus buyer's premium
Characterized by its bold style, Art Deco jewellery comprises either clean curving lines or geometric shaping, using vivid colours or, more commonly towards the end of the period, monochromatic tones to accentuate the visual impact.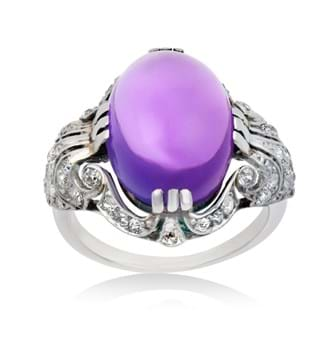 A French Amethyst and Diamond Ring – Sold for £550 plus buyer's premium
So simple is it in style that its popularity continues today, 100 years on, with many of the jewels being as wearable and as fashionable as when they were originally created. It is without a doubt the most popular period of jewellery at Tennants, with the number of enquiries for Art Deco diamond rings surpassing all else and almost without exception every Art Deco piece to go under the hammer here is the subject of fierce competition.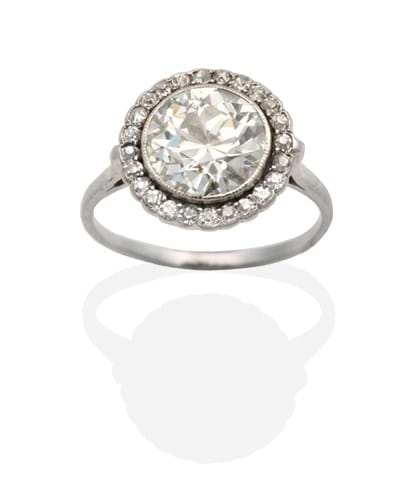 An Art Deco Diamond Cluster Ring - Sold for £5,000 plus buyer's premium
The term Art Deco is derived from the Great Exhibition held in Paris in 1925: the Exposition Internationale des Arts Décoratifs et Industriels Modernes. The millions of visitors attracted to the exhibition were witness to the principle of new ideas and originality, and the huge cultural impact of the event led to the term "Art Deco" being coined. The style had in fact been paving its way since the early 1900s. Once the popularity of Art Nouveau jewellery began to decline, the Edwardian style in Britain and the Art Deco style in Europe had arrived. Diamonds were a vital component of the style, but the chunky spray style of the previous century was out, instead favouring delicate settings and fine workmanship that mirrored the soft elegance of popular lace, feather and silk adornment. This was made possible by the development of techniques that appeared in the very late 1800s, which allowed platinum to be used in jewellery settings.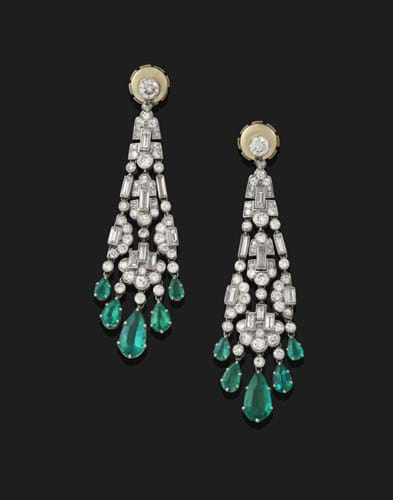 A Pair of Art Deco Emerald and Diamond Drop Earrings circa 1930 - Sold for £35,000 plus buyer's premium
The fashion of the era was for shorter, cropped hairstyles, and with that came a trend for long earrings (almost touching the shoulder in some cases), and statement necklaces. Necklaces included the négligée style, with two drops of different lengths at the centre, or the sautoir, a long length of usually pearls or chain, often terminating with tassels. These could be extremely long, and whether the length was worn on the front or the back of the body depended on the style of dress being worn.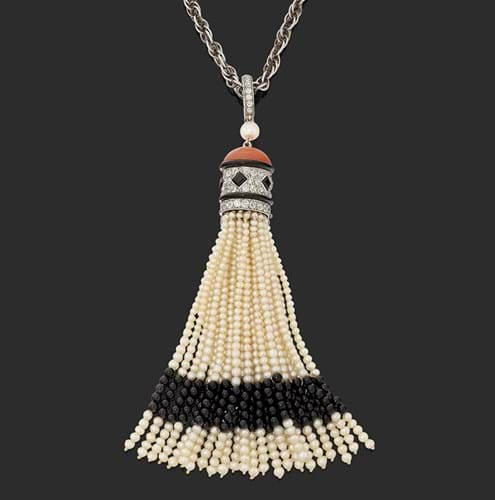 A French Coral, Onyx, Diamond and Seed Pearl Tassel Pendant on Chain by Cartier - Sold for £35,000 plus buyer's premium
Common motifs included: stylised flowers, the natural flowing forms of the late 19th century were replaced by designs with more angular petals and leaves; any sort of vehicle, this was the era when transport and travel was revolutionised and planes, cars and boats appear often; and elegant creatures such as gazelles or greyhounds adorned jewellery too.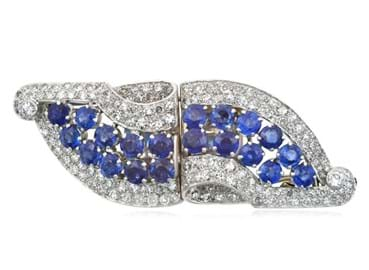 A Sapphire and Diamond Double Clip Brooch, circa 1920 – Sold for £2,500 plus buyer's premium
Gemstones and enamel (or lacquer) were used to create blocks of colour, and diamonds and gemstones alike were regularly baguette cut – an oblong cut, perfect for fitting into geometric frames.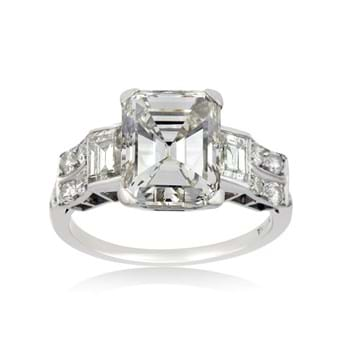 A Diamond Ring – Sold for £22,000 plus buyer's premium
The minaudière was an innovative alternative to an evening bag. It was no longer necessary to find an evening bag to tone with each outfit. Instead, a sleek metal case, sometimes in a suede outer, with a gemstone set clasp could contain a compact, a cigarette lighter, a comb, an atomiser and worked with all eveningwear. One of Van Cleef and Arpels' notable contributions to the history of jewellery design, the minaudière allegedly came from a meeting between Frances Gould and Charles Arpels. Gould, having left the house in a hurry, put her make-up etc into a metal Lucky Strike metal cigarette case and the minaudière was born.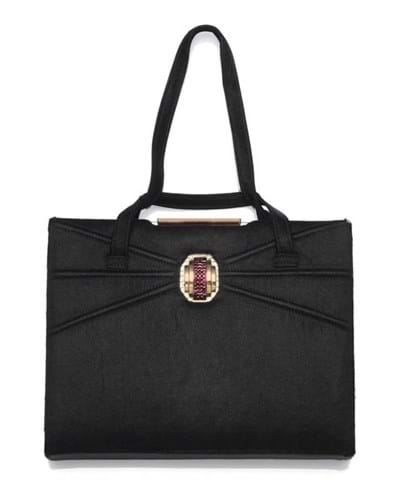 A Minaudière, by Van Cleef & Arpels, circa 1940 – Sold for £2,000 plus buyer's premium
Some of the most famous names in Art Deco jewellery include Cartier, Boucheron and Van Cleef & Arpels. Cartier were famous for their colourful tutti frutti designs and their diamond and gem set clip brooches. Boucheron led the way in formal occasion jewels, whilst Van Cleef and Arpels pioneered their invisible settings which allowed only gemstone, and no metal to be visible.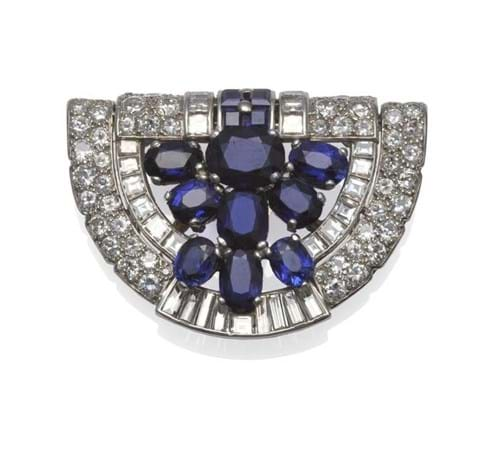 An Art Deco Sapphire and Diamond Brooch, by Cartier - Sold for £17,000 plus buyer's premium
The exhibition which gave the style its name happened at the peak of its popularity, and ironically perhaps marked the end of that era, the style waning in popularity after that.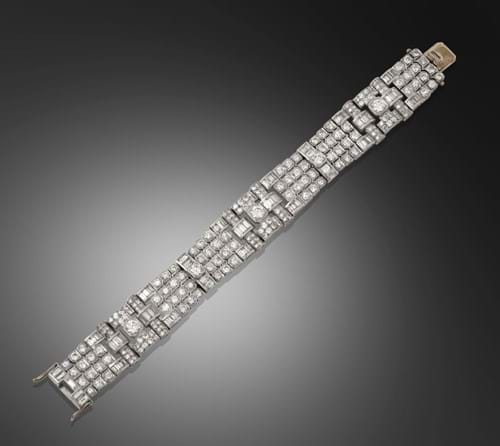 An Art Deco Diamond Bracelet – Sold for £11,000 plus buyer's premium
Contact the Jewellery Department to discuss consigning items for sale